Welcome to the first linky of our book study!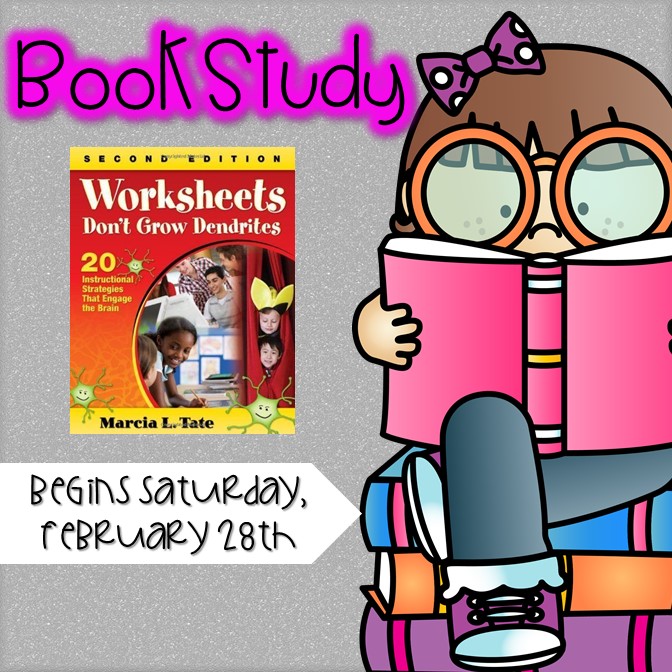 What do you think so far? I am only on chapter 5 but I already feel like I'm getting new ideas and just feeling refreshed. Something that has been assuring to me is that I (and most of us) are putting these strategies to use in our classrooms! It's not like we don't know that brainstorming and field trips are important, but to see it in print and backed up by research just makes me feel encouraged. Reading the words have felt like a pat on the back.
Even though I know I am putting a lot of these strategies to good use, I know there are ways I can improve as well. There are so many great ideas and I want to always find ways to do things better in my classroom. Many of us have visited RCA and have felt the ripples of change (for the better) in the education world. Ways to encourage our kids, make learning come alive and keep the content relevant and fresh.
I was out of school for an entire week (#snowweek) two weeks ago and I spent some quiet mornings reading through these pages and trying to soak it all up!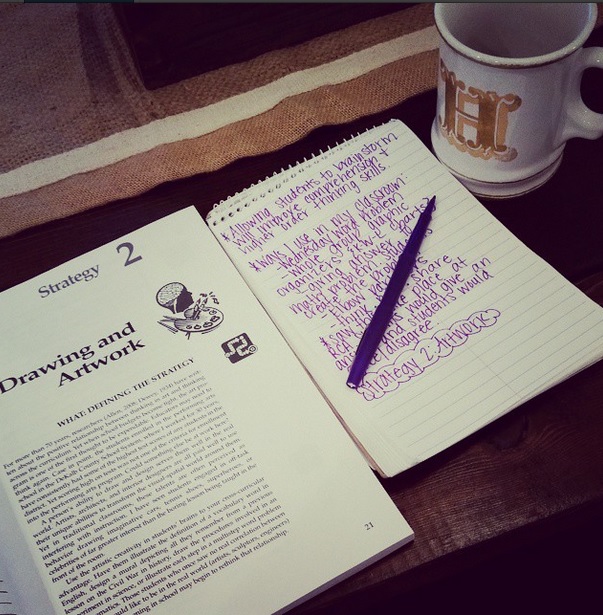 So, to help us all, I have created these grown-up graphic organizers to help us all keep our thoughts straight. Here are my thoughts for chapter 1.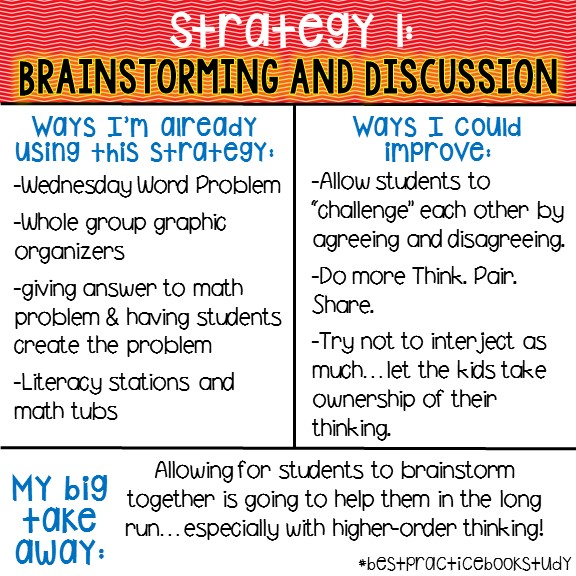 I feel like I've done a decent job of letting my students brainstorm together. In Kindergarten, there is a lot of guiding…which I'm sure it's like that in every grade all the way up! Someone asked me how I get my kids to go to the board without playing and getting off task. First of all, I model and then model…and then I model some more. I also have a group this year that LOVES to teach. They all want to be teachers and their parents tell me that all they do when they get home is play school. I tell my kids what my expectation is for when they go up to the board to lead. Going up to the board and getting to "teach" is a privilege. My expectations are clear and they know they will not get to lead the discussion if they are being silly or if they get the class off task. They take their job seriously 🙂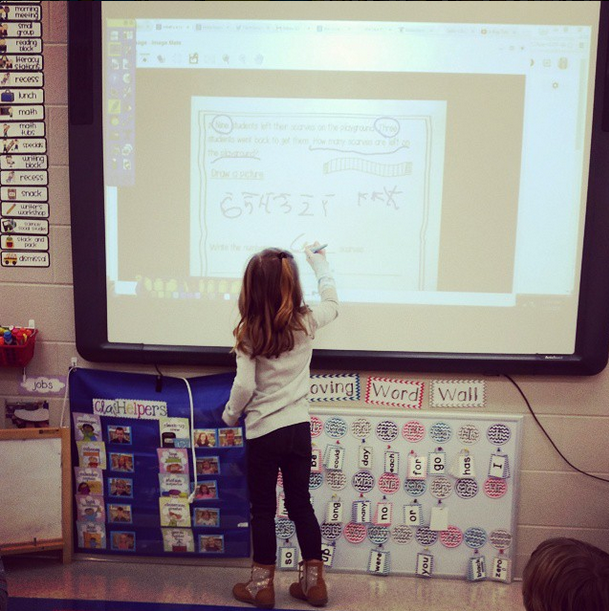 This is one of my little "teachers" leading the discussion of our Wednesday Word Problem this week. I think some teachers (guilty as charged) feel like they have to be in control all of the time and sometimes it's ok to let your kids take charge. When it becomes the  norm in your classroom, students learn from each other in the coolest ways! I just need to keep my mouth closed at times (even when it gets messy) and let them get to their answer together by talking through it together as a group.
Strategy 2 was all about artwork and allowing students to express themselves through drawing and artwork. I saw some really great examples of how teachers were implementing this strategy this week! One teacher had her kids create a pictionary of their vocabulary words. I loved getting to see all of these strategies in so many different ways this week! Art and drawing isn't just for the K-1 grade classrooms! The author did a really great job of discussing the various positive research that demonstrates how powerful art and drawing can be for the brain.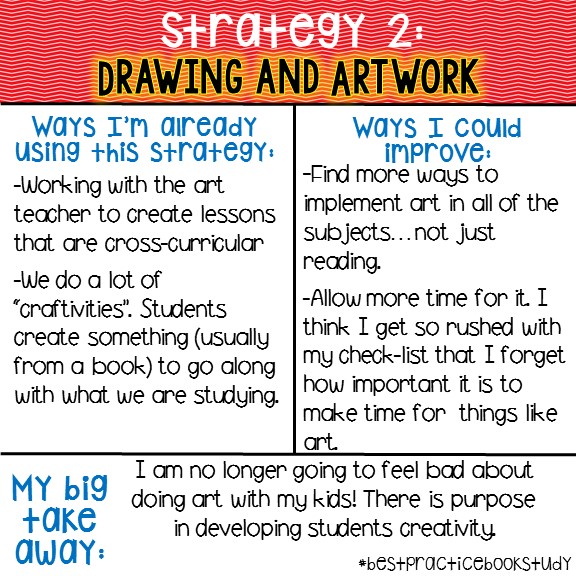 This was a way that I used art during literacy by reading a story and having the students write about the character and create their own character.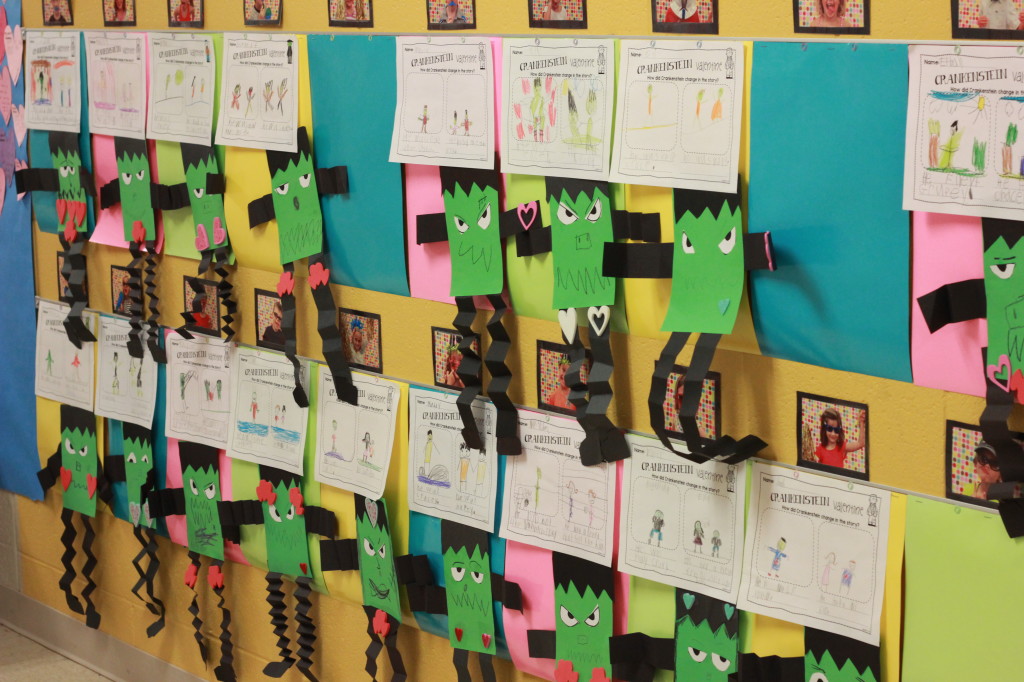 This is a way that I have used art in math. Students created their own snowmen and then we did a lesson on measurement.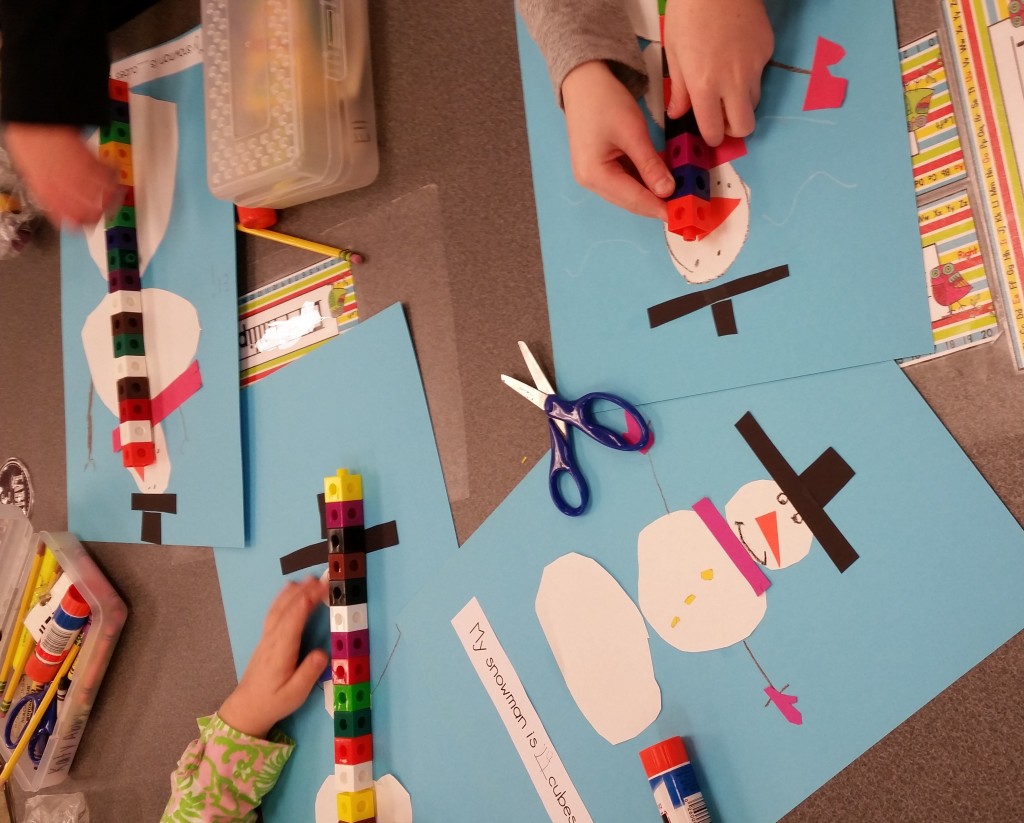 This George Washington craft (from Kim Adsit) worked great this week while we were studying about President's Day (snow days have really thrown our whole planning thing off). Students were so engaged while building factual sentences about Washington. Projects like this allow students to design and learn at the same time. I am a firm believer that art and drawing should have a place in every classroom! Anyone that asks you about the importance of art should have this quote taped to their car, "Different areas of the brain, including the amygdala and the thalamus, are activated when people are involved in art activities". It makes me sad when I hear that administrators and other teachers don't approve of art because they don't think it's purposeful. They obviously haven't read this book!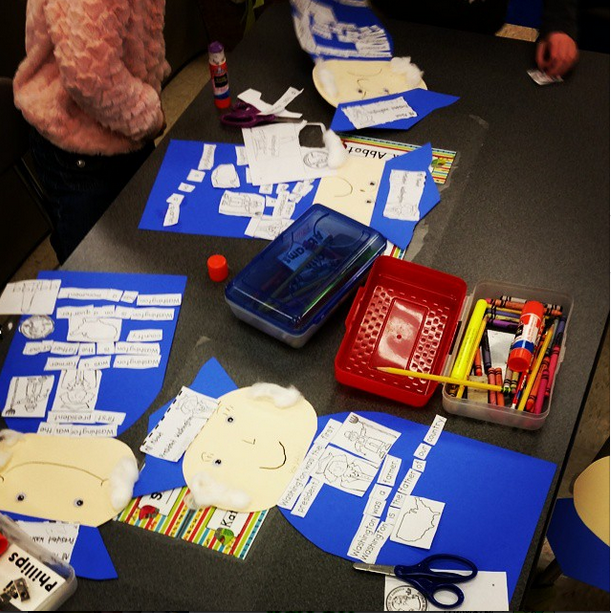 You are more than welcome to grab this graphic to use on your own blog when you link up. All you have to do is right click as save it as a jpg. The easiest way to write on it is to plug it in to PowerPoint and insert a text box. Then, re-save it as an image. I can't wait to read all about how you are applying this strategies to your classroom! Make sure to pop around to other blogs and grab some inspiration and leave encouraging comments!
Link up (click on the blue button) and prepare for your chapter 3 discussion over at Mrs. Wills Kindergarten on Saturday! Here is the rest of the schedule and you can join in at anytime!
Queen of the First Grade Jungle Chapter 4 (March 10th)
Fabulous in First  Chapter 5 (March 14th)
One Extra Degree Chapter 6 (March 17th)
Mrs. Jump's Class Chapter 7 (March 28th)
The First Grade Parade  Chapter 8 (March 31st)
In April, you will be visiting these girls for the remainder of the study:
Mrs. Ehle's Kindergarten Chapter 9 &10 (April 4th)
What The Teacher Wants Chapter 11 (April 7th)
First Grader At Last Chapter 12 (April 11th)
Erica's Ed Ventures  Chapter 13 (April 14th)
KinderGals Chapter 14 &15 (April 18th)
A Rocky Top Teacher Chapter 16 (April 21st)
The Inspired Apple Chapter 17 (April 25th)
Little Warriors Chapter 18 (April 28th)
Falling Into First Chapter 19 (May 2nd)
Kickin' it in Kindergarten Chapter 20 (May 5th)
If you are not a blogger (which is totally fine!!!) we still want to hear from you! Leave a comment below to let us know how you are incorporating this book in your classroom!