I wish that I could just keep things the same from year to year but I always seem to have idea after idea pop in my head around 1 a.m. a couple weeks before school.
I start to envision another year and some things I can do to make my room more engaging, more colorful, just…more.
Another K teacher that has been teaching for 25 years is still changing things every year so I think that it is just the way it goes. I'm good with that because I don't ever want to become "one of those teachers".
I am not much of a thematic type girl, but I do tend to gravitate towards bright colors.
Here is my desk area. I got the flower decorations at Joanne's. They are Martha Stewart. I just used command hooks to get them to stay. We can't hang anything from the ceiling so this was the next best thing.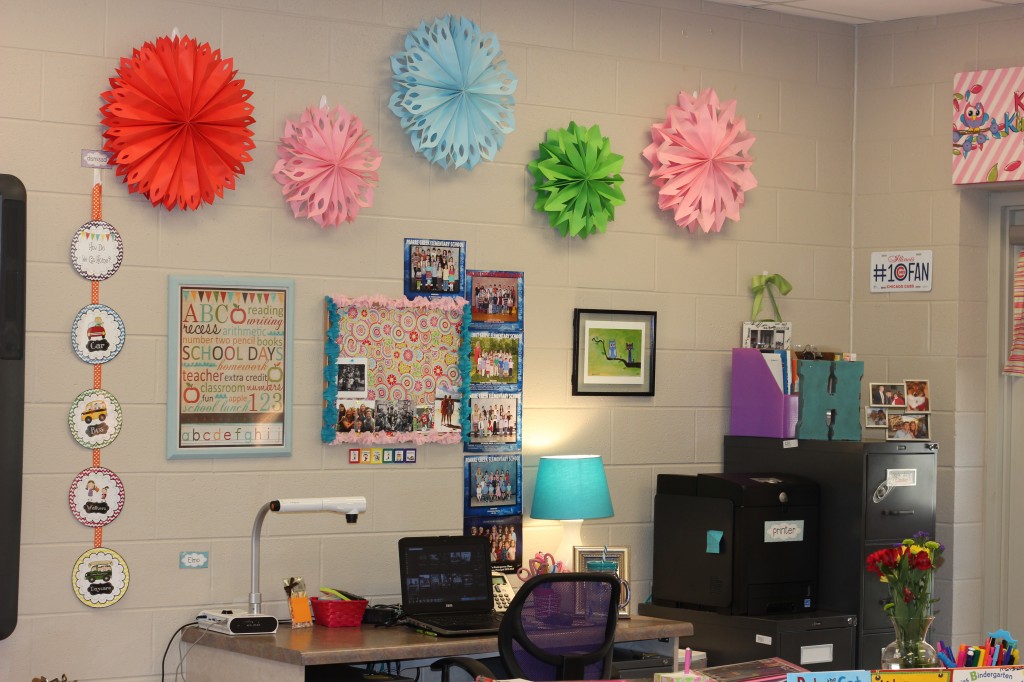 To the right of my desk, I have quotes that I framed. I also got the frames from Joanne's and then spray painted them. The quotes are from Hope King's Desire to Inspire pack. I also hung the pictures up with command hooks and then make bows to cover the top of the hooks.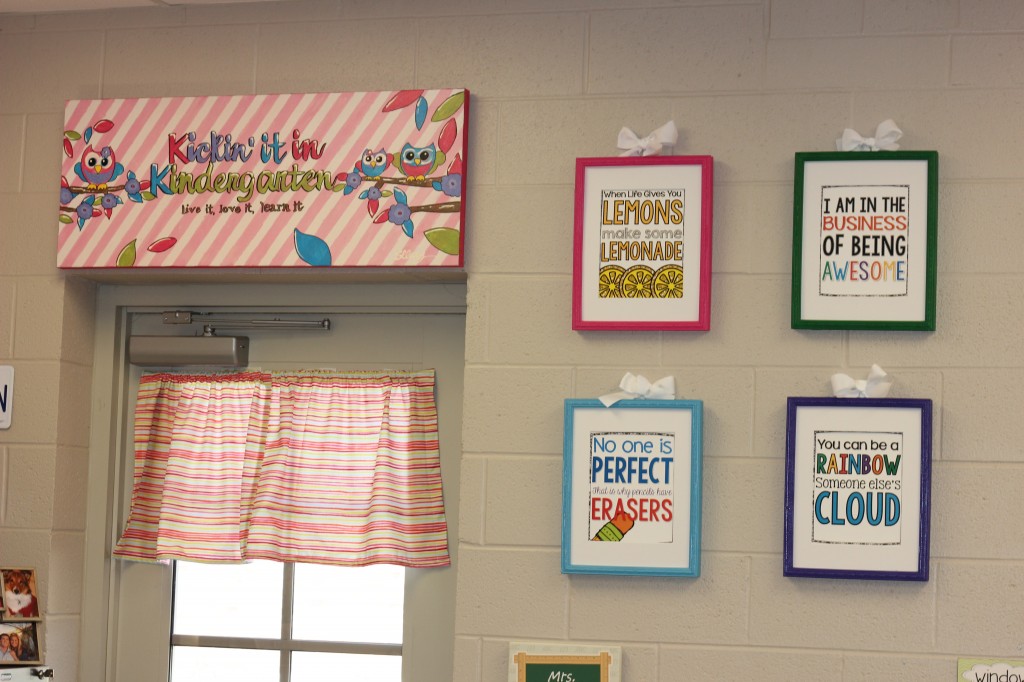 If you are sitting at my desk looking out, this is what it looks like.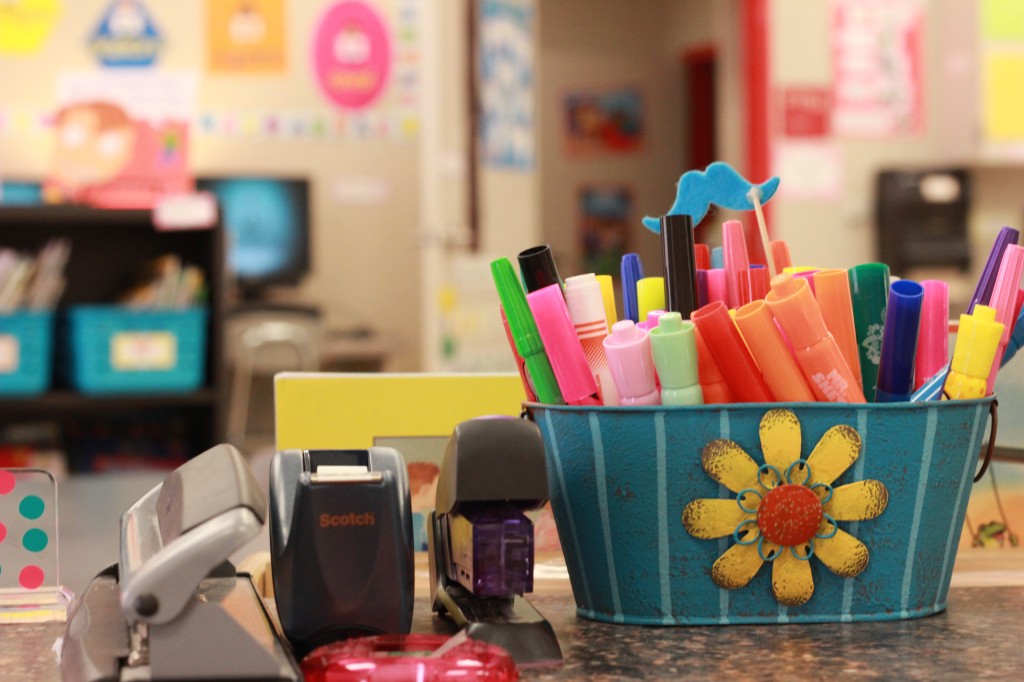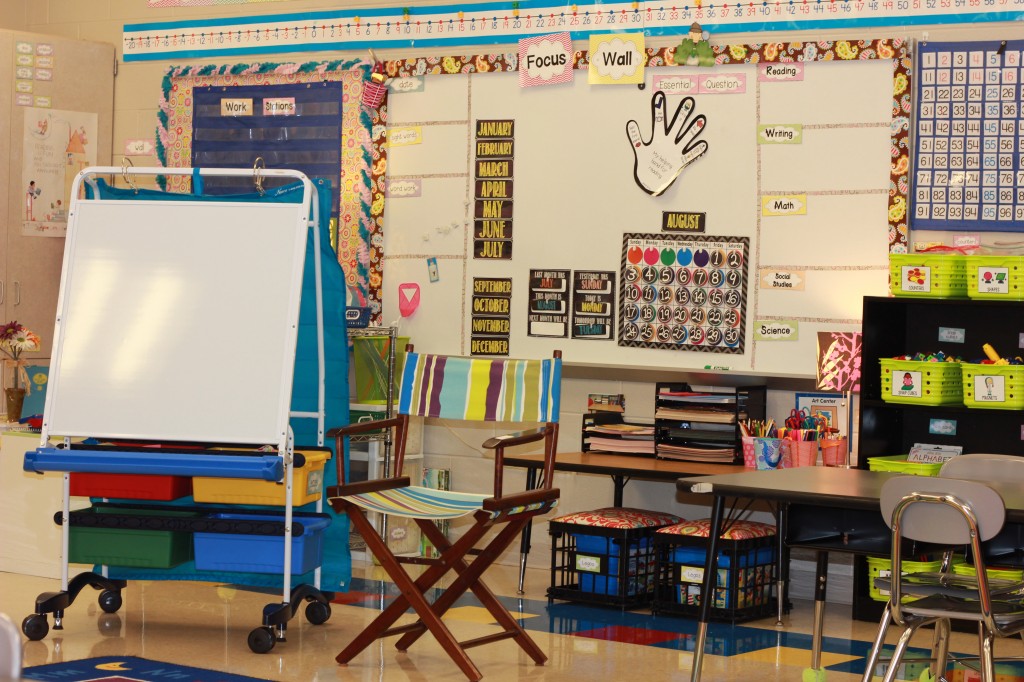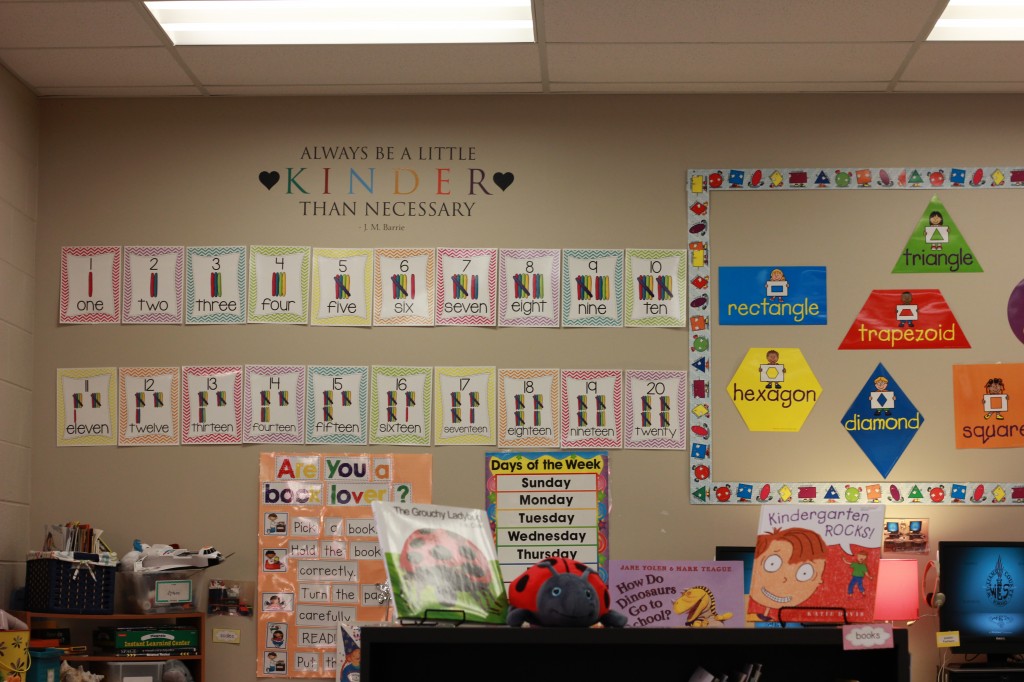 That is the library. I am slightly obsessed with the new baskets that I bombarded Big Lots for. They are sturdy and the perfect color. I got all of the library labels from Maria Monroe's Editable Classroom Library Labels.  Re-doing your entire library is NOT an easy (or cheap) task, but I am so happy with the outcome. The green baskets are thematic baskets, the pink baskets are favorite authors and the blue baskets are for leveled books.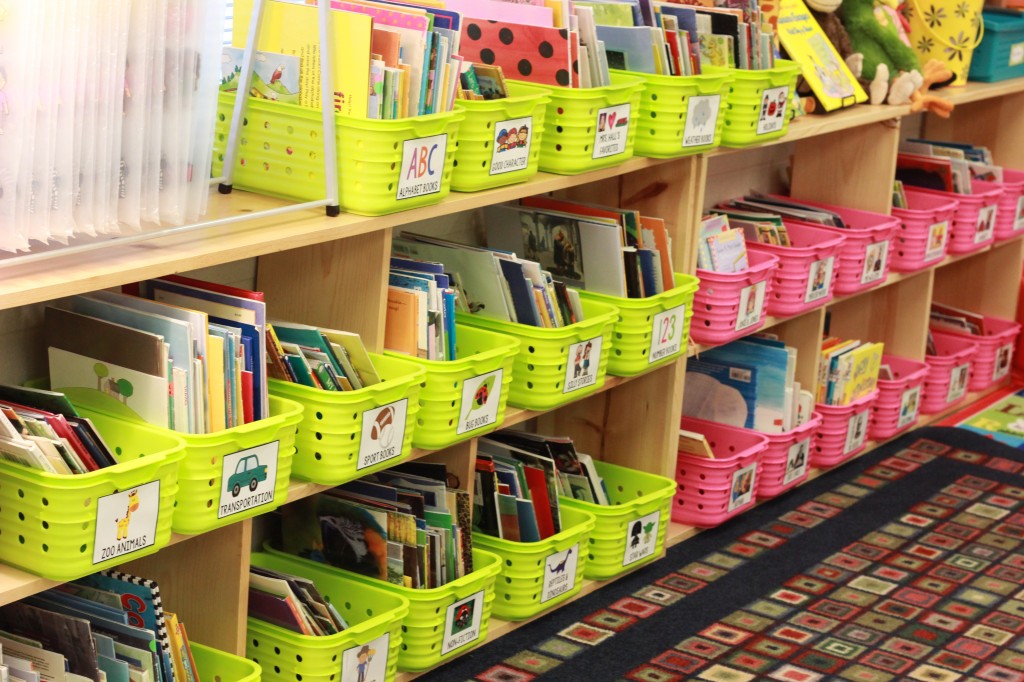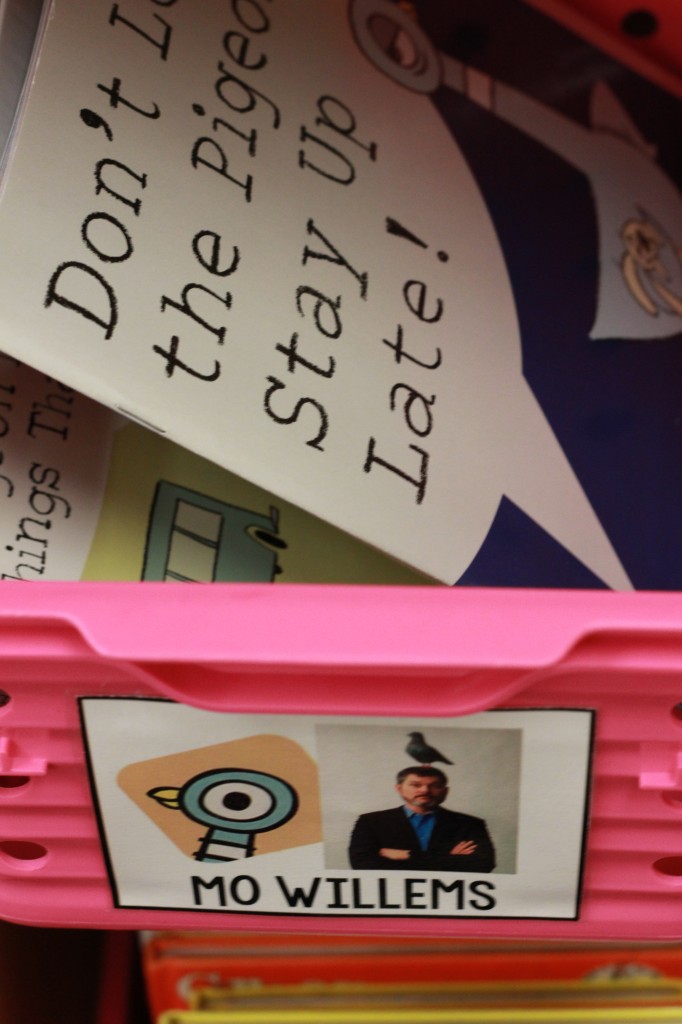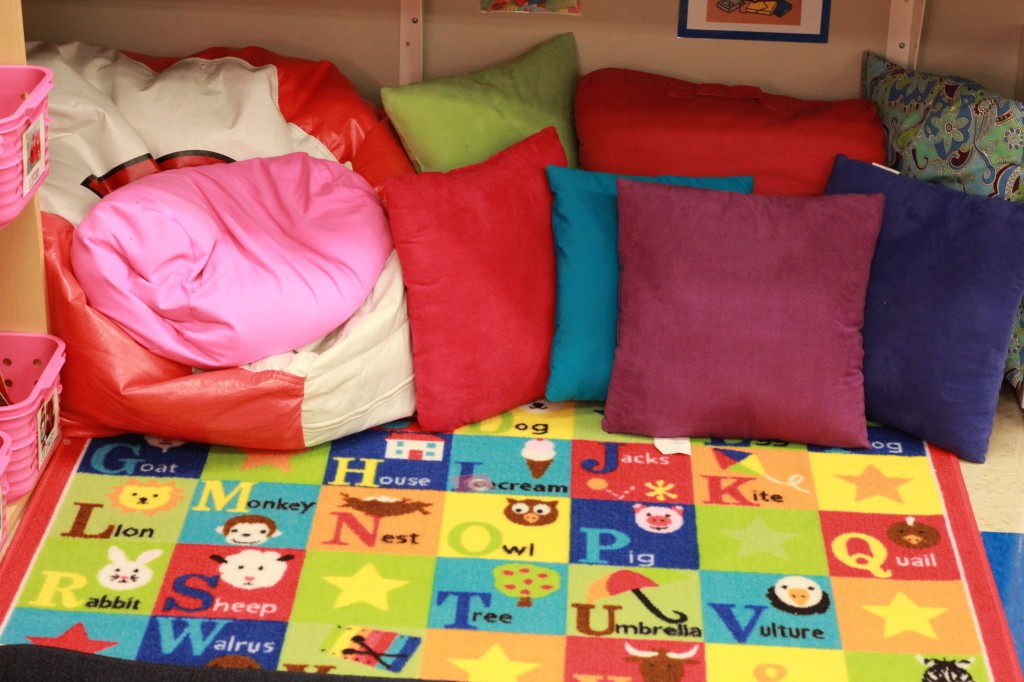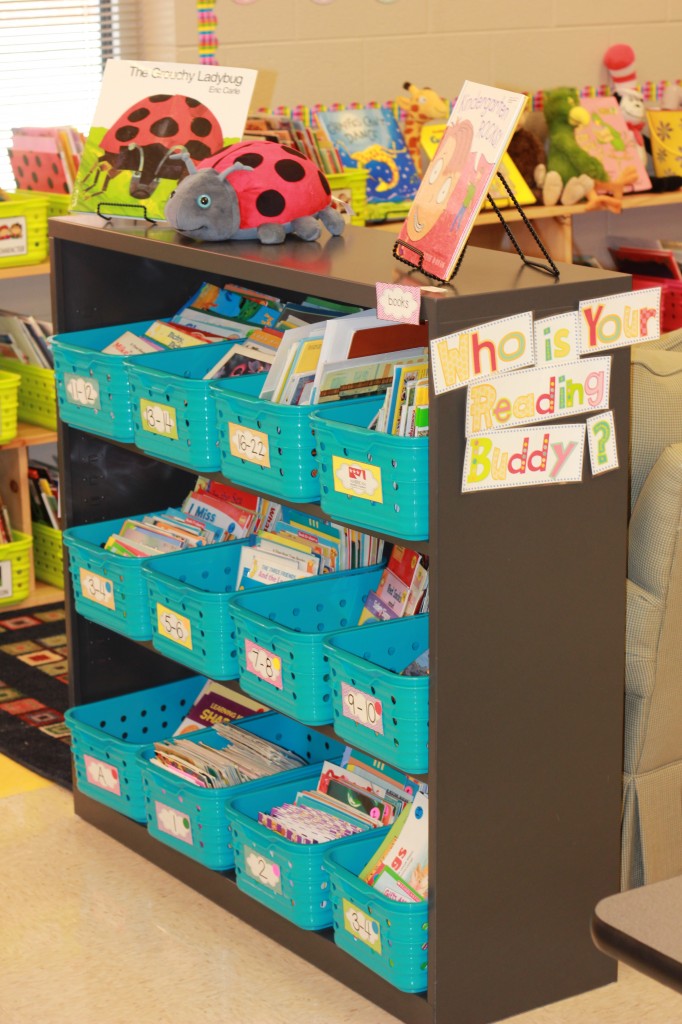 Above the books in the library is my word wall.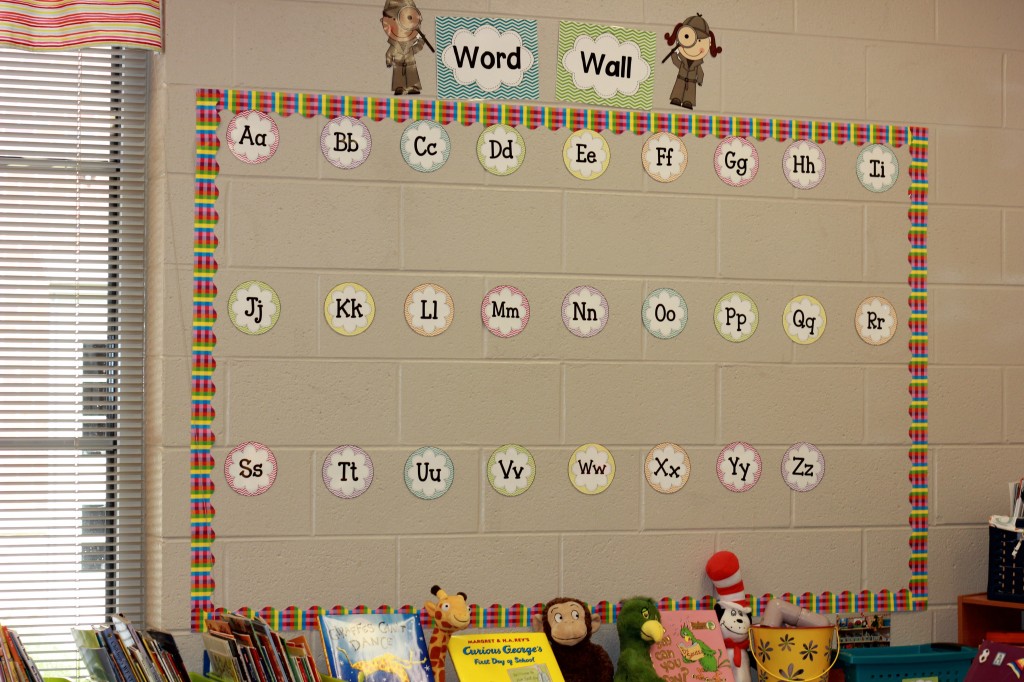 Here is my guided reading area. I am excited to use my new wipe off decals that I got off of Amazon during small groups. We are going to use them for reading and math groups. I used to work with a teacher who let her students write on the tables and it would wipe off with a magic eraser. I'm not in the club of letting kids write on the furniture, but I did like the idea. The decals are meant for the wall, but I am excited to use them for small groups!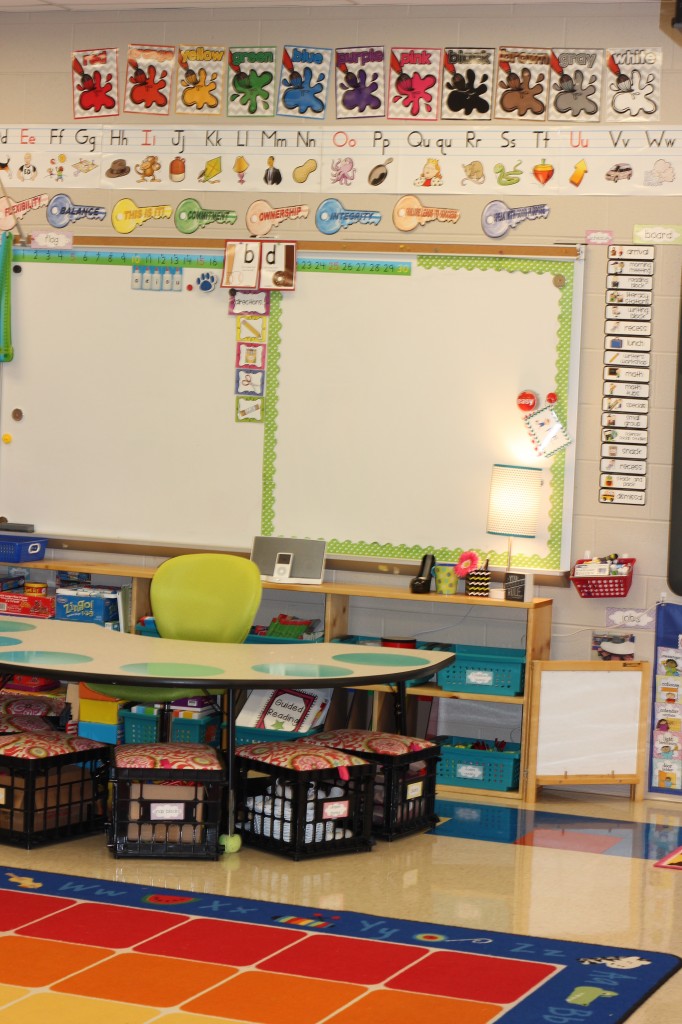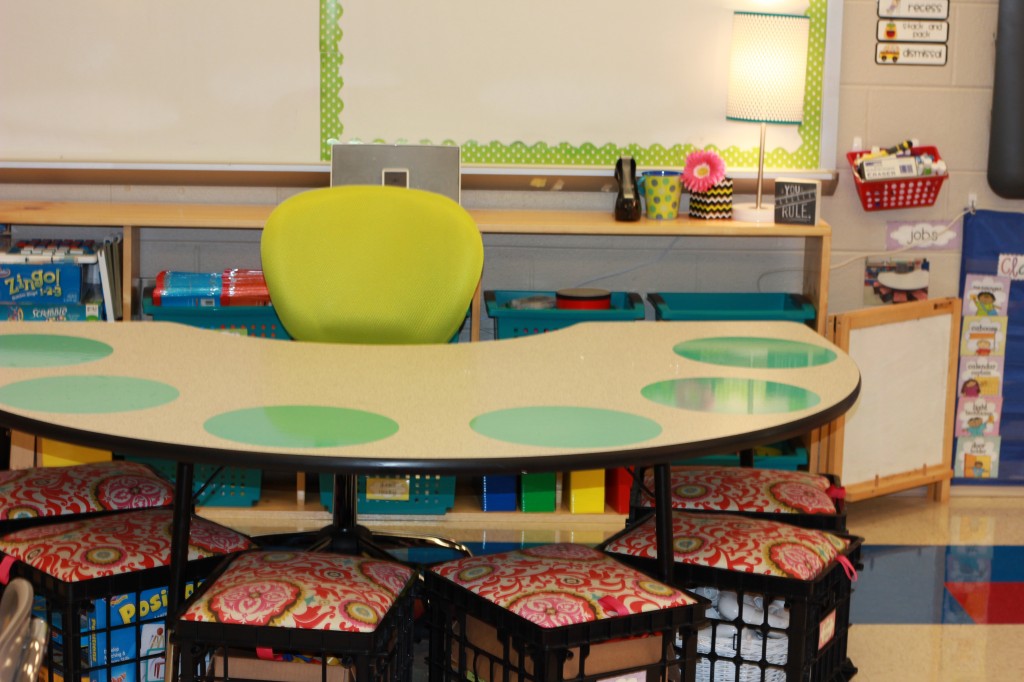 My Dad built both sets of shelves. They are perfect for storage and keeping everything where I need it to be and can access it quickly.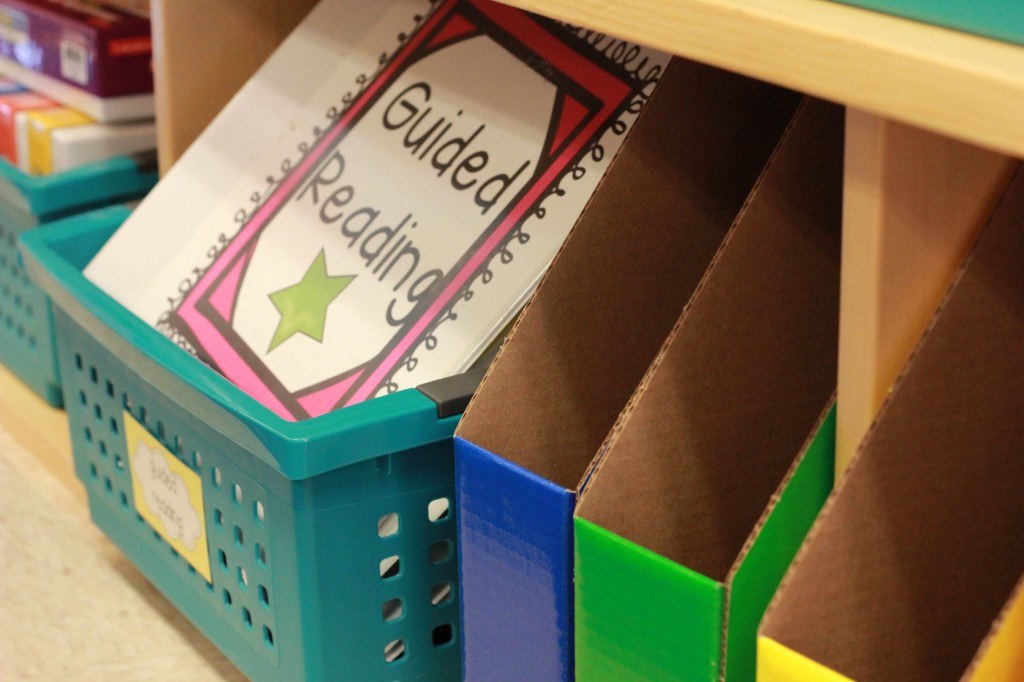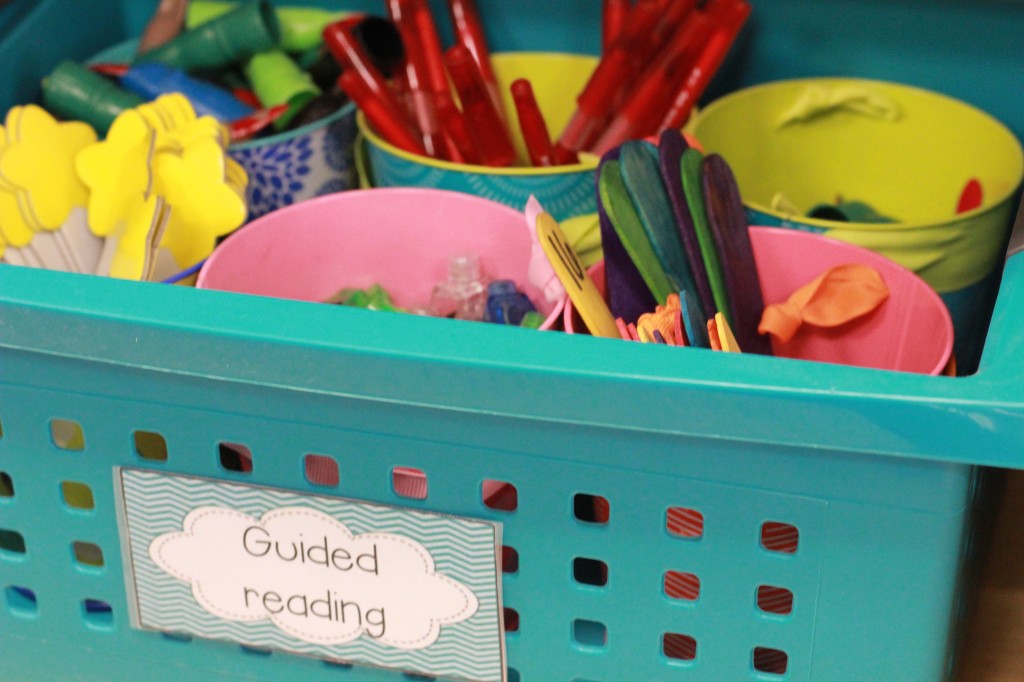 I used the same baskets for math manipulatives. I also used the editable library cards to make the labels for the math baskets.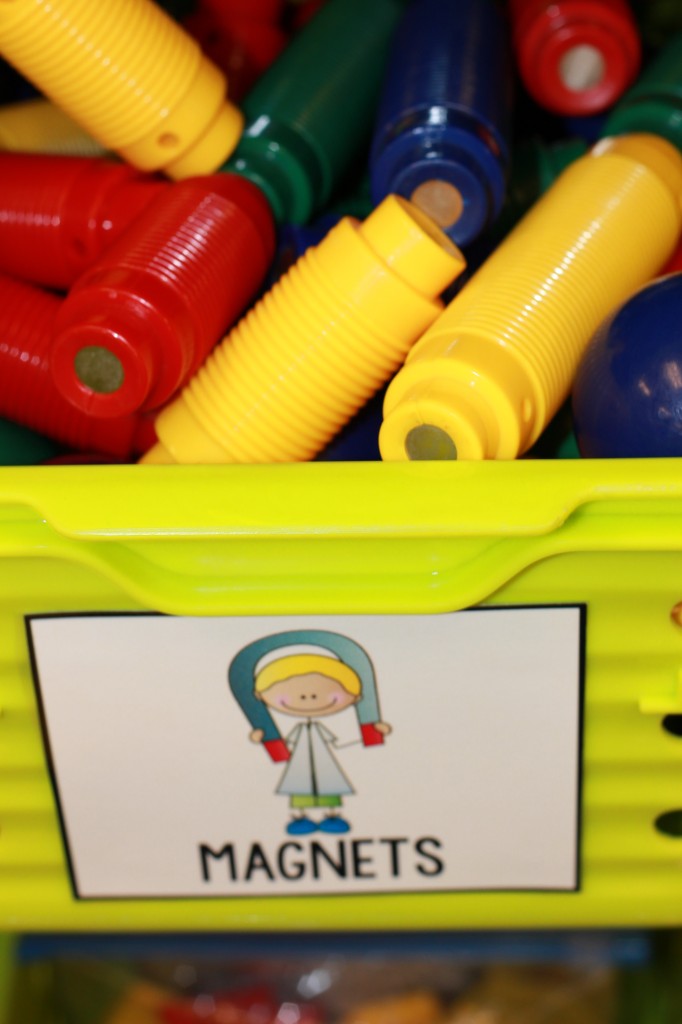 Cara Carroll inspired me to change up my calendar. You can get the numbers and other calendar items from her blog for free.  It took me FOREVER to figure out what the names of the tabs that held the numbers are. If you are in the market…they are called Stikki Clips 🙂 You can buy them off of Amazon or the Parent/Teacher Store. I want to grow up and be Cara Carroll so I feel like having a calendar just like hers is pretty much the way to go 🙂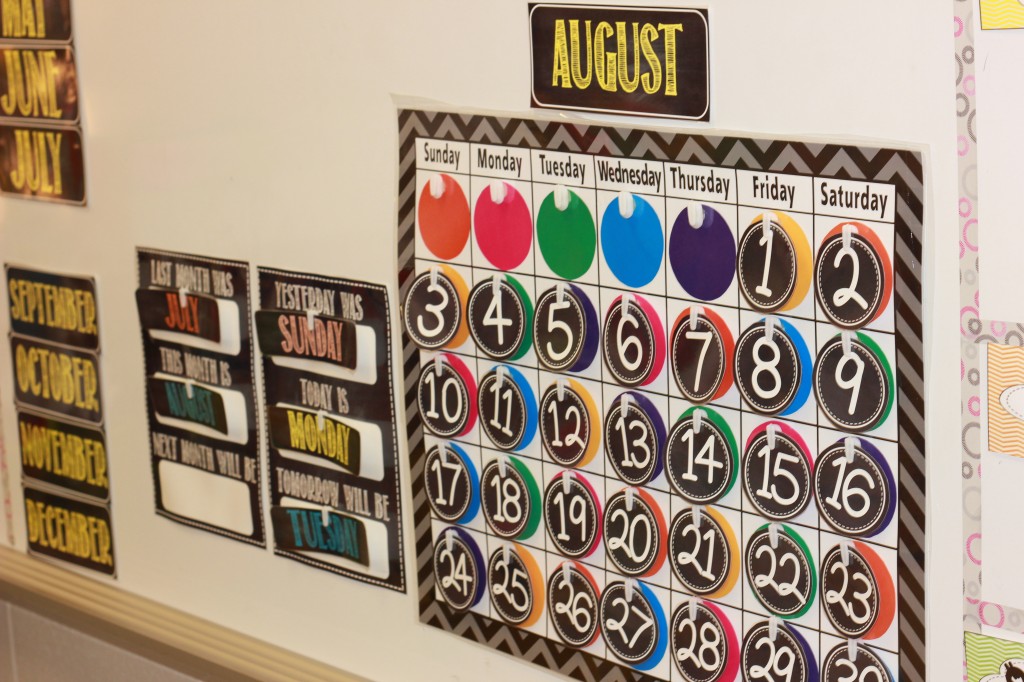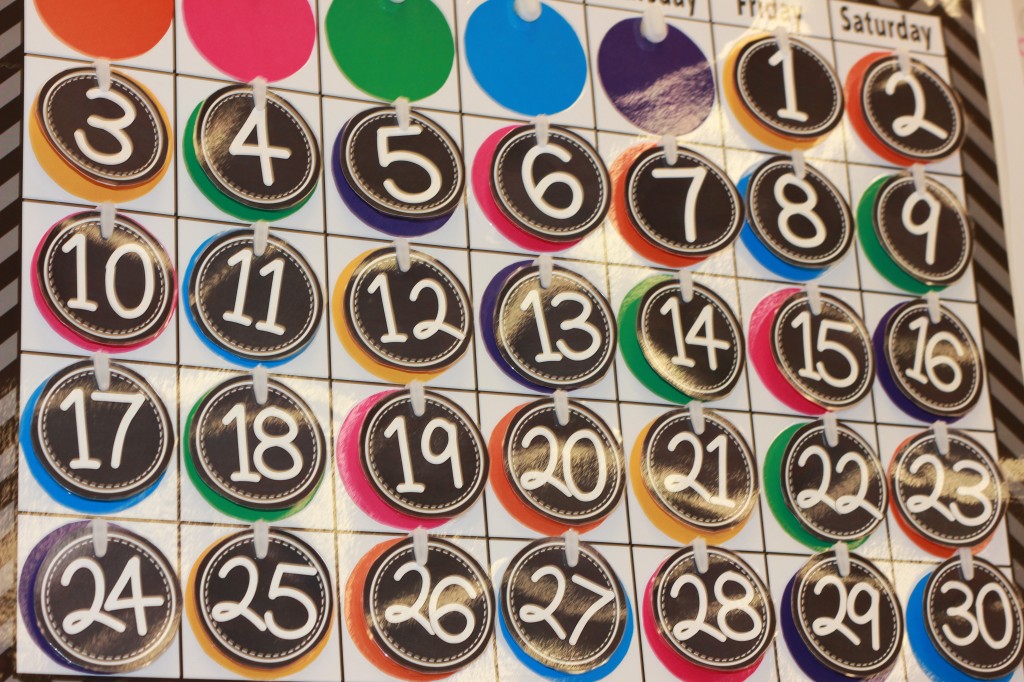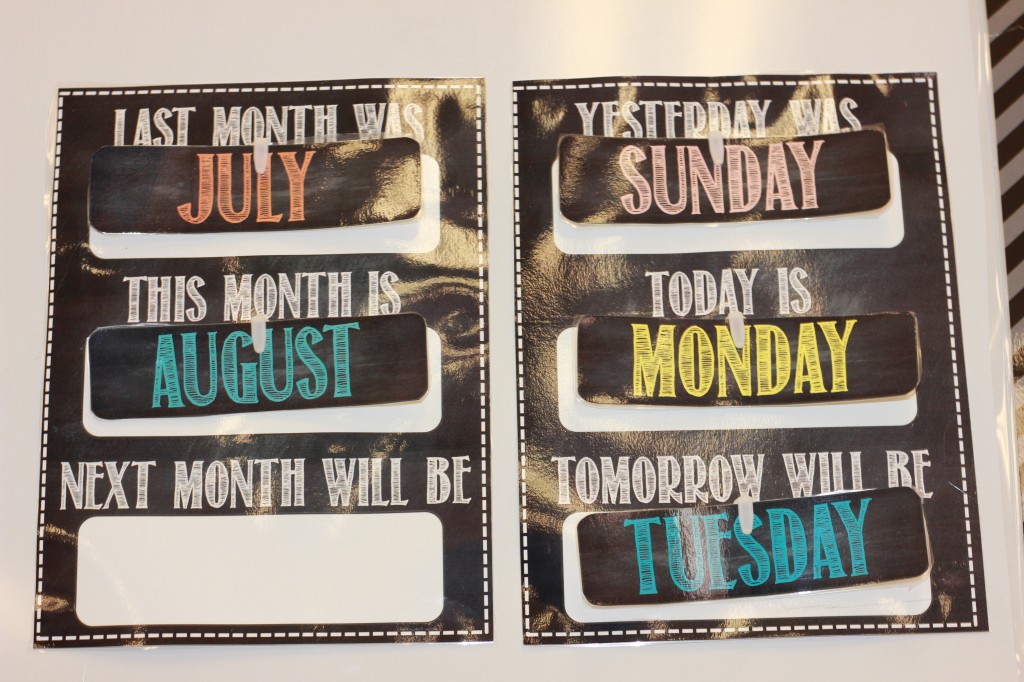 The calendar is now part of my focus wall. I don't have anything written down on the focus wall yet because…well…I'm not really focused at the moment. It's on my to-do list.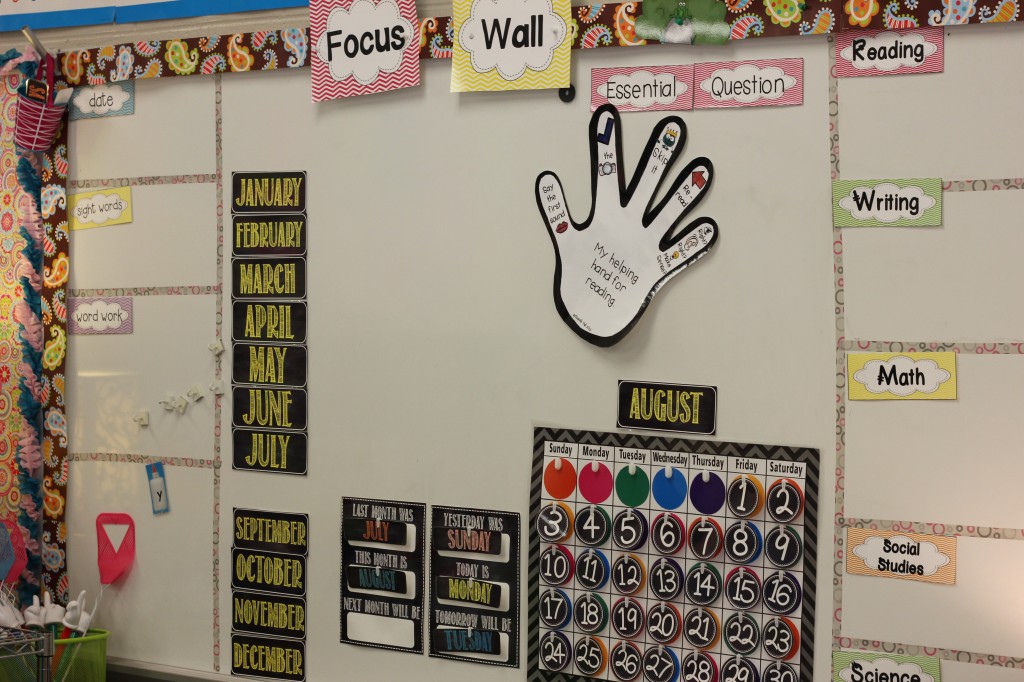 Here is the homeliving/station corner of the room.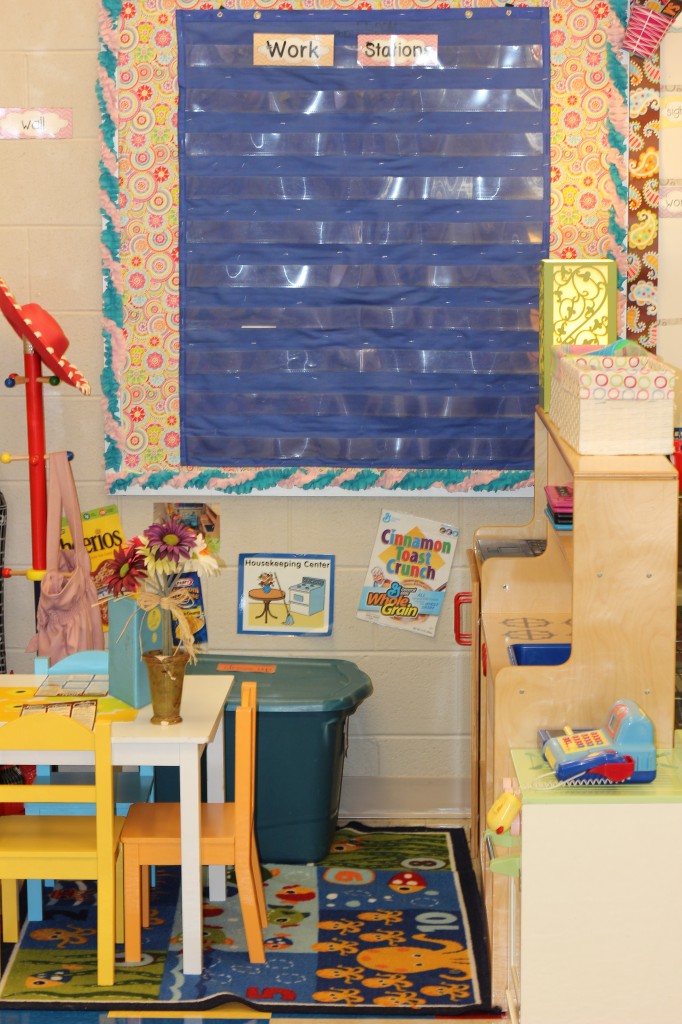 Then under the Smart Board is the moving word wall and the jobs chart which is by cupcake for the teacher. Both of the rugs in the homeliving area and in front of the moving word wall are from Big Lots.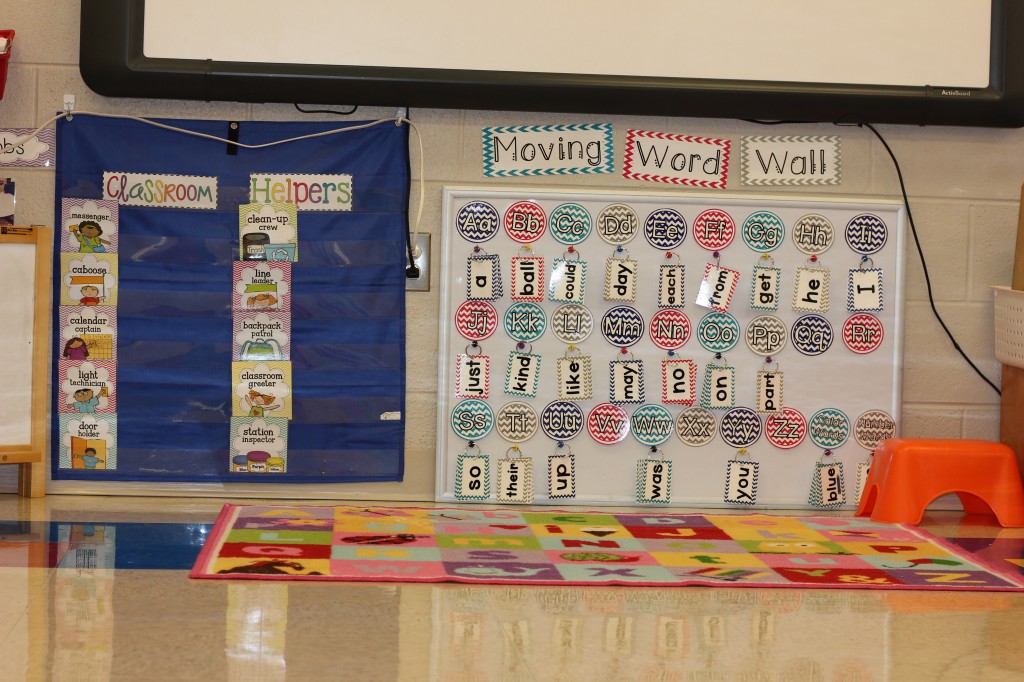 I am so lucky because I have two huge windows in my room with a door that leads to a courtyard. If it's nice outside, I can walk my kids out there and we will do our morning meeting out there. It's just a nice option to have.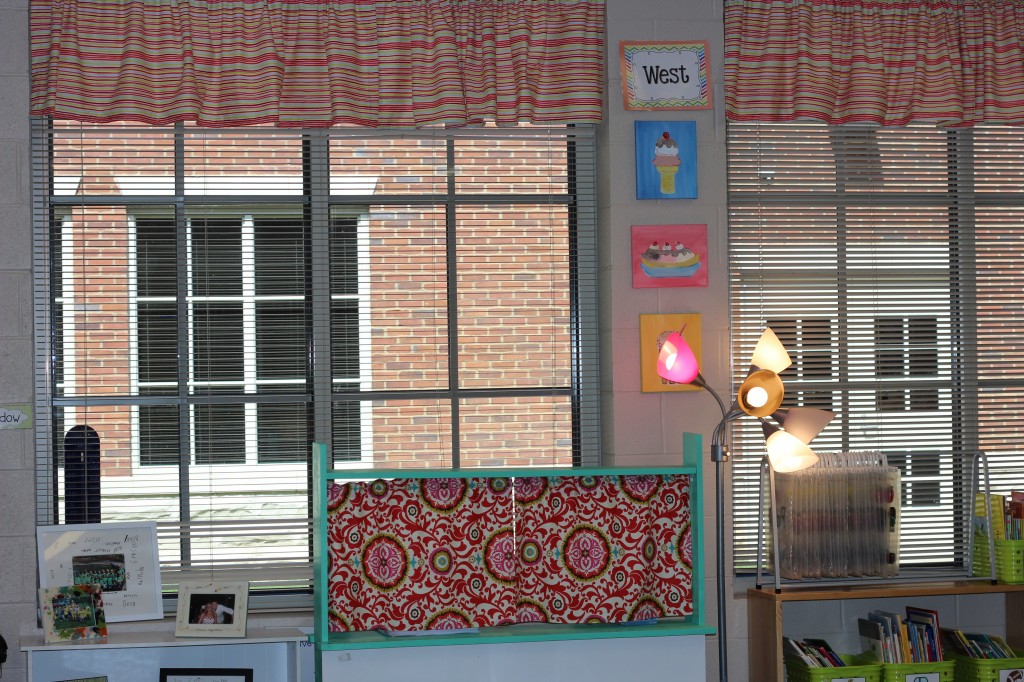 So, there you have it!
I can't wait to welcome my new bunch of kiddos to school next week!