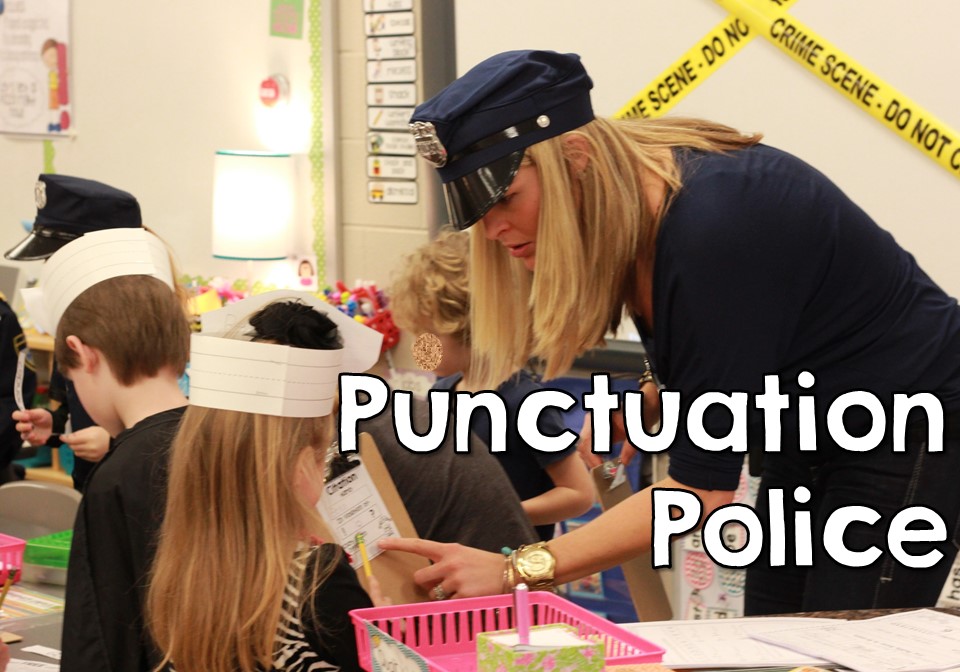 I have had this idea swirling in my head since the beginning of the year that I was going to turn my classroom in to a crime scene where students have to be "punctuation police". Kim Bearden does grammar police at RCA and when I went back last week, I just knew that I was going to want to do it this week. If I'm being totally honest with you, I wasn't sure how to take a middle school teacher's (and not just any middle school teacher…THE middle school teacher) idea and make it work for a Kindergarten classroom. It must be the spirit of the crime scene today and being surrounded by little police officers that I'll tell you this…I didn't even have this all put together until last night.
After talking to my husband and other teachers some, I was able to piece it together in a way that I feel was really meaningful and engaging for my kids. I'm also pretty certain that they will never forget a punctuation mark for the rest of their school days (which is a slight exaggeration but I'm just telling myself that).
First, you have to set up your room like a crime scene! Kids will be more excited and buy in to what you are wanting them to do if you make it exciting! I was playing "Bad Boys" as they walked in to the classroom.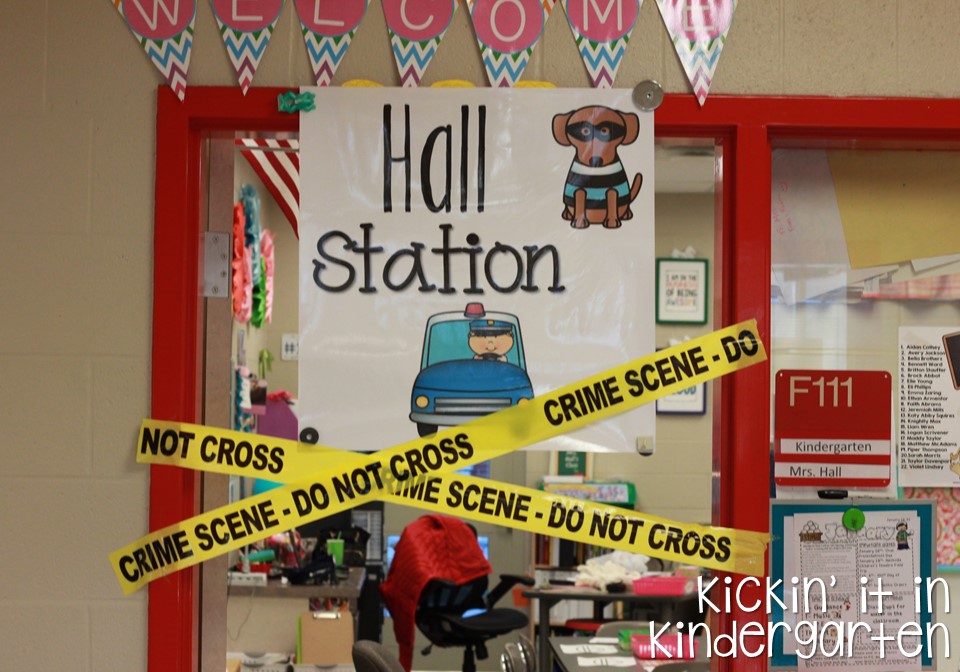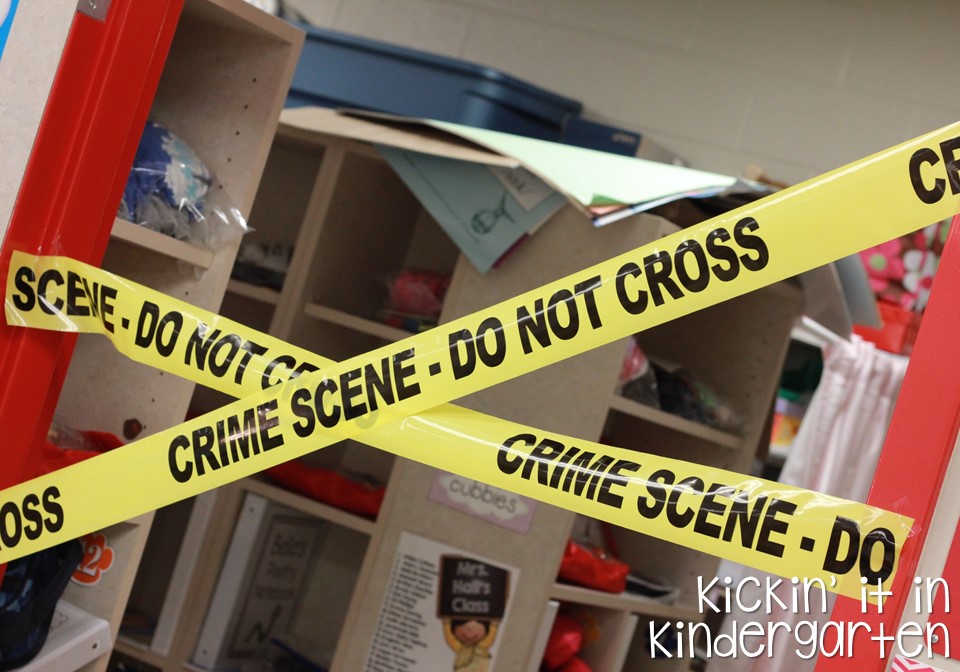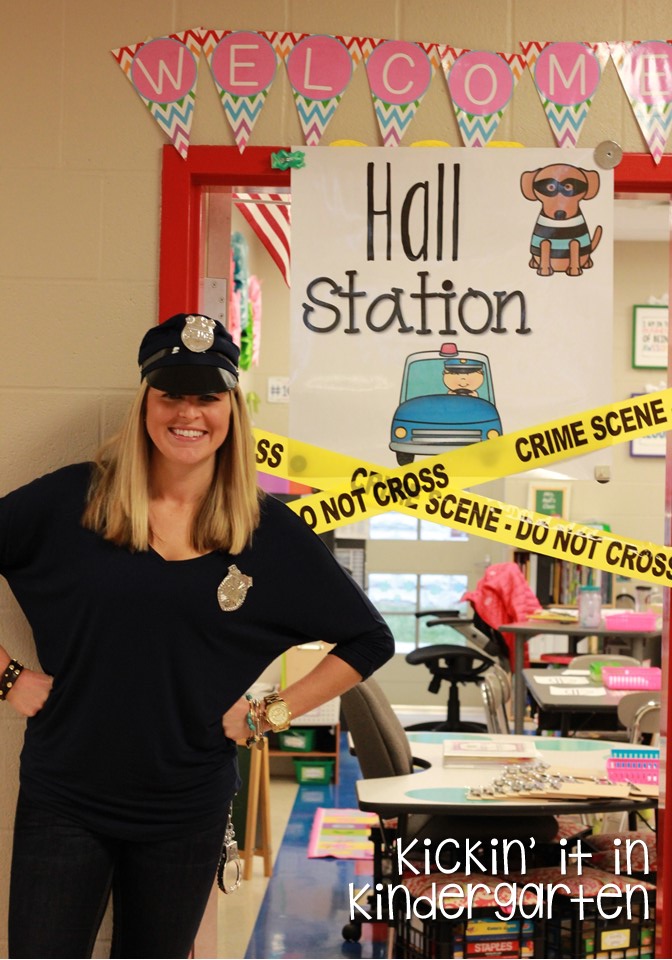 I tried to cover as much as I could with caution tape. The kind I found was from Amazon. I just wore jeans and a navy shirt. I found my hat, handcuffs and badge at Party City. I had the kids use the smaller clip-boards for their ticket writing. I found these mini-clipboards from an on-line office supply store. They were pretty inexpensive.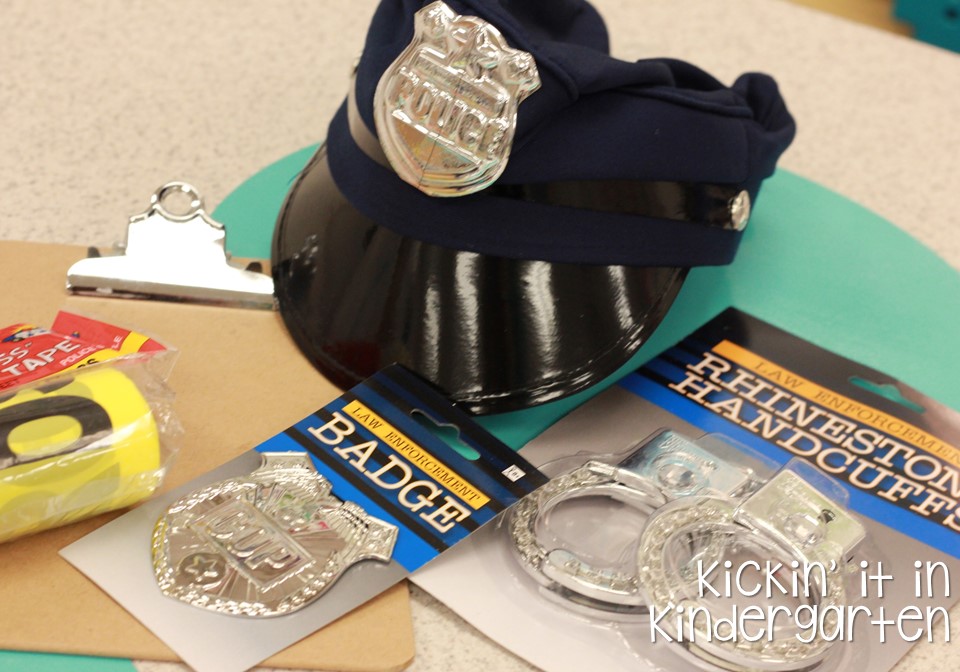 I asked students to wear either a black or navy shirt to school because they had to look the part! The kids came in and colored the police hats and cut them out. I put the hat cut-out on a sentence strip and printed off the labels on Avery shipping labels (5163). There is no need to purchase things for your kids to wear! You can make this as easy as possible 🙂 I had some kids that knew we were going to be doing something police related and they came to school decked out in a full police costume.
More power to ya.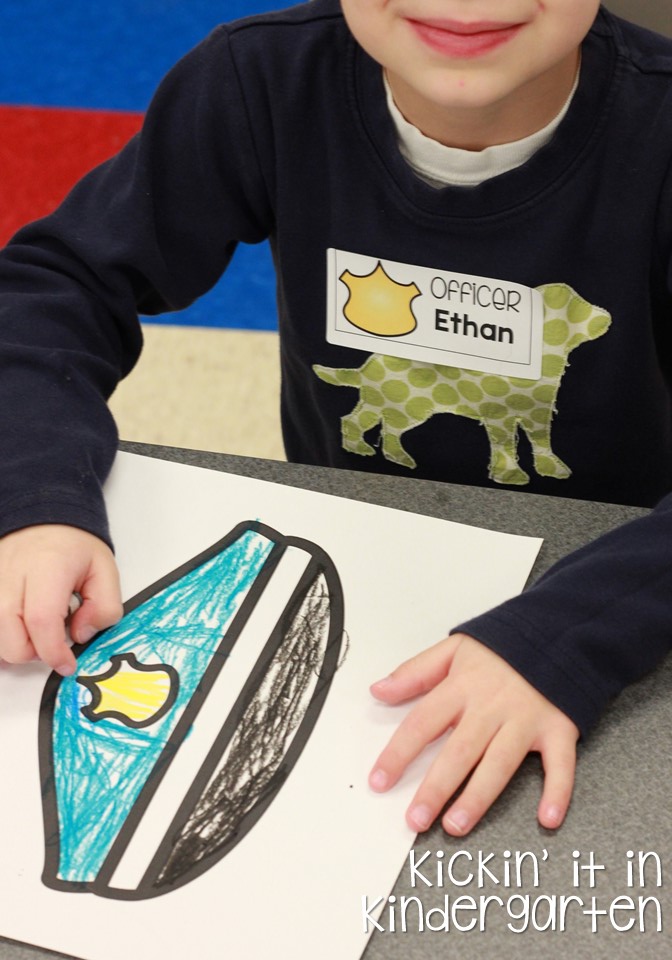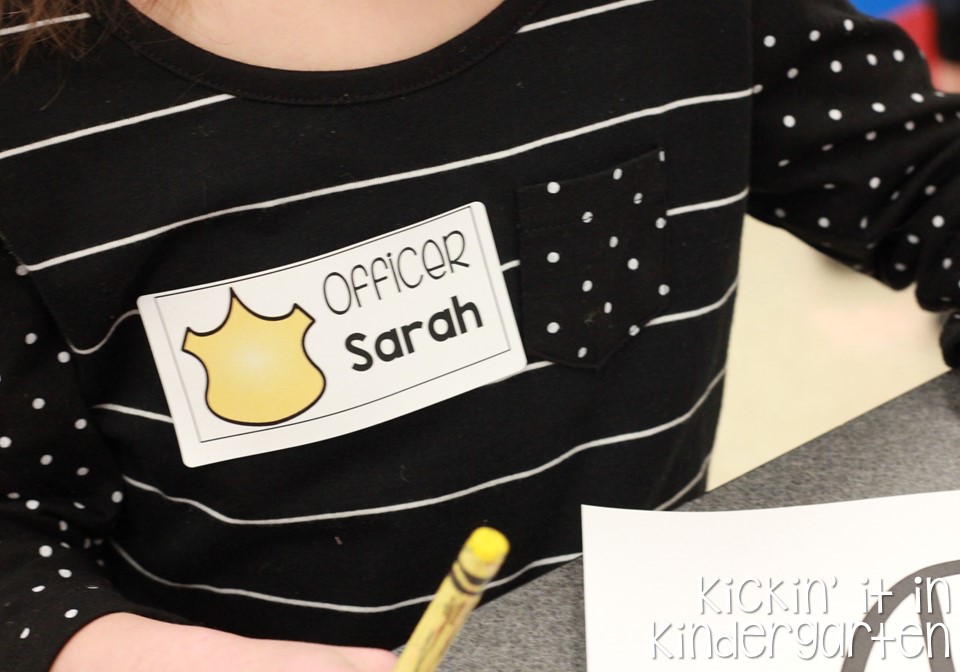 After they cut out there hats, it was time to get busy.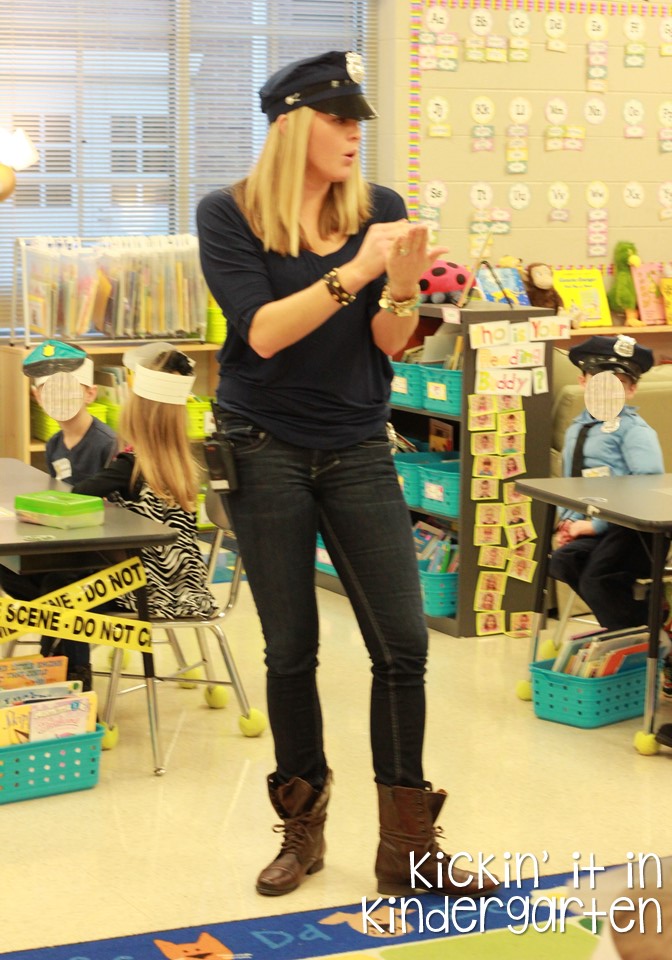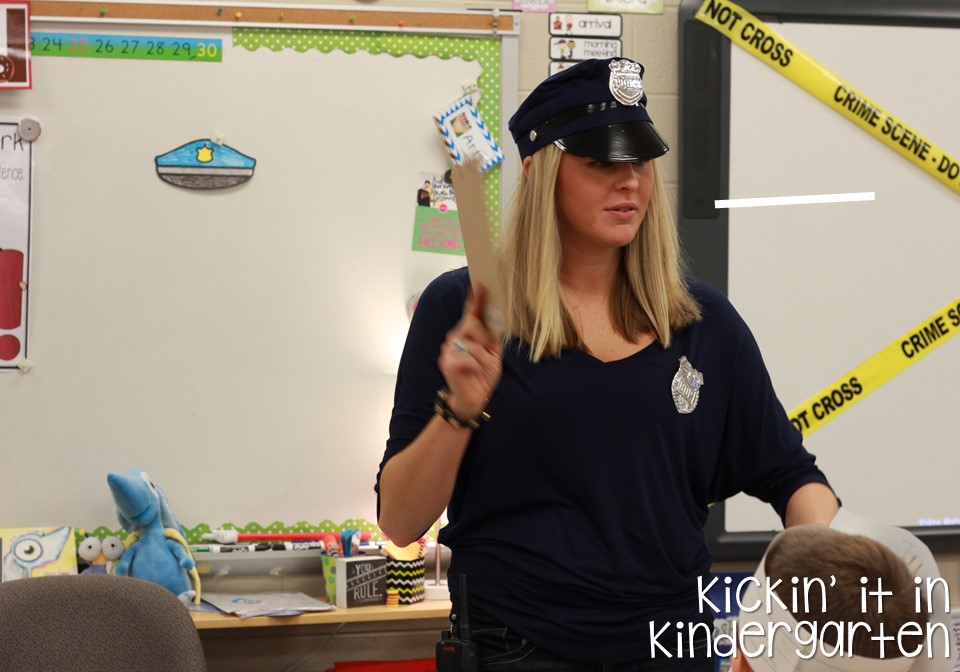 My neighbor art teacher (bless her) came over and snapped a few pictures of us in action.
Here is how the activity went….
Around the room were circular baskets with sentences that had incorrect punctuation. I had a total of five baskets. There are over 100 sentences so you could probably make this activity last all day if you wanted to!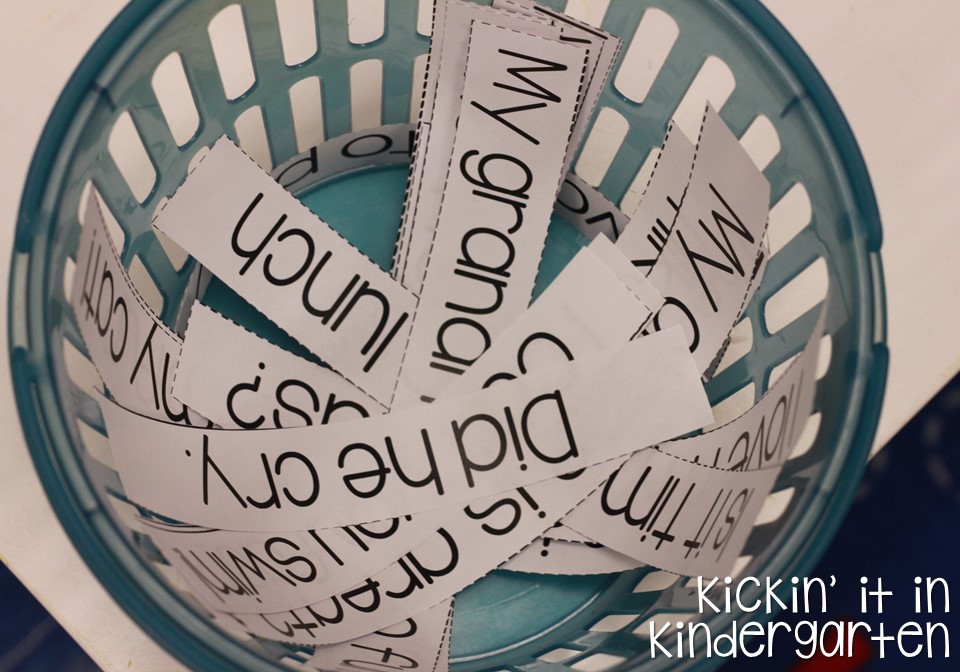 I had "punctuation citations" for the boy officers and girl officers. I put the girl tickets in a pink basket, and the boy tickets in a blue basket.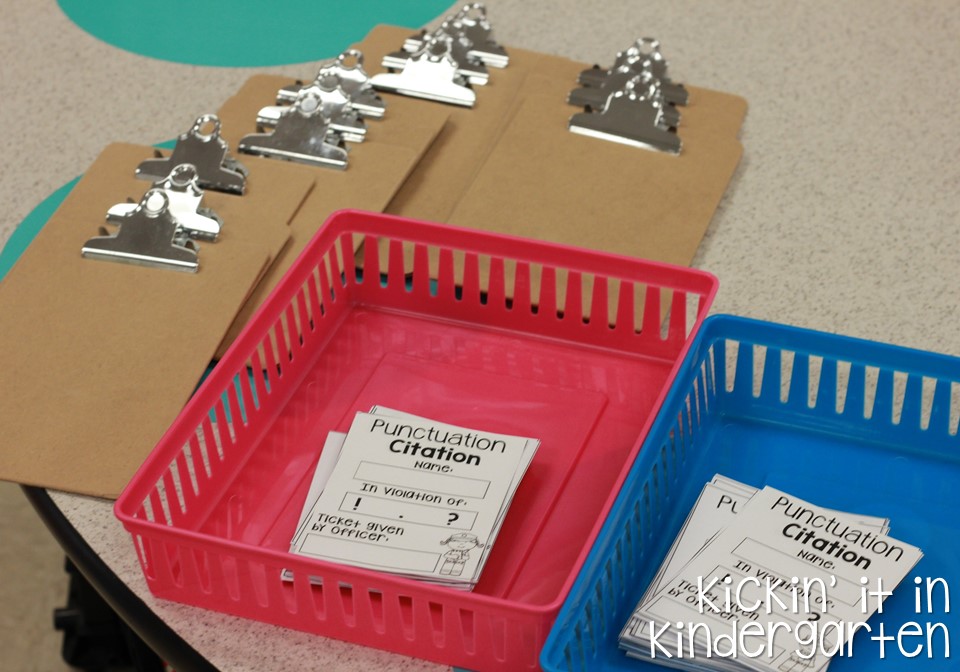 Some of the kids were "offenders" some "officers" and I had three kids act as the judges. This will look differently in each classroom. You can have kids draw numbers or just assign them their part. The student that was the "offender" had to go get a sentence out of one of the circular baskets. A punctuation officer would come over with their clip-board and ticket in hand. The two students read the sentence together and the punctuation police then writes a ticket for the punctuation mark that was misused.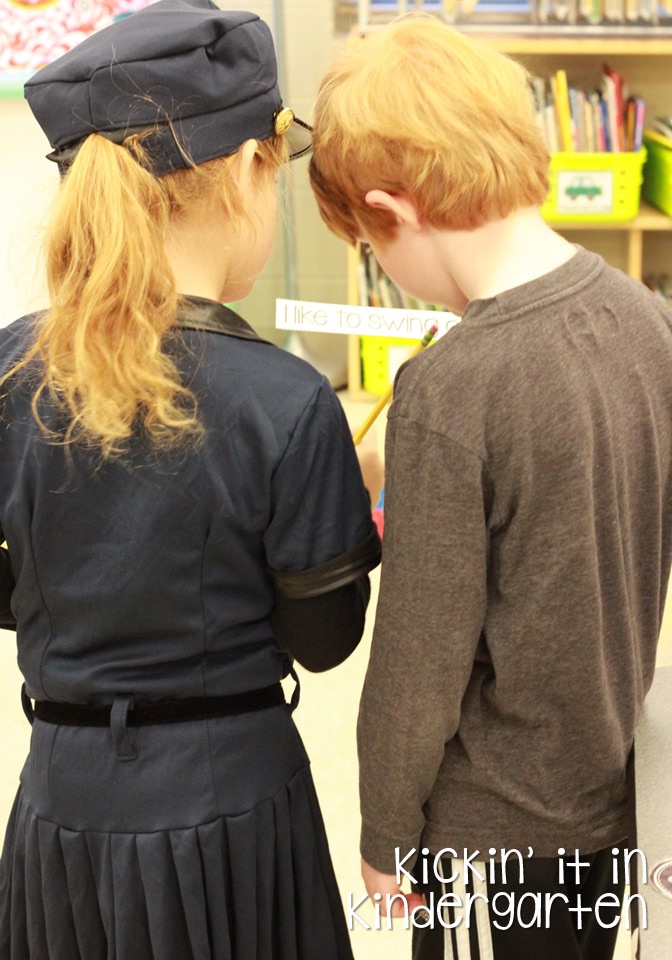 Once students had written the ticket. They brought the ticket to the judges and had to try to "get out of jail" by re-writing the sentence. The offender and the officer had to work together to come up with the correct punctuation.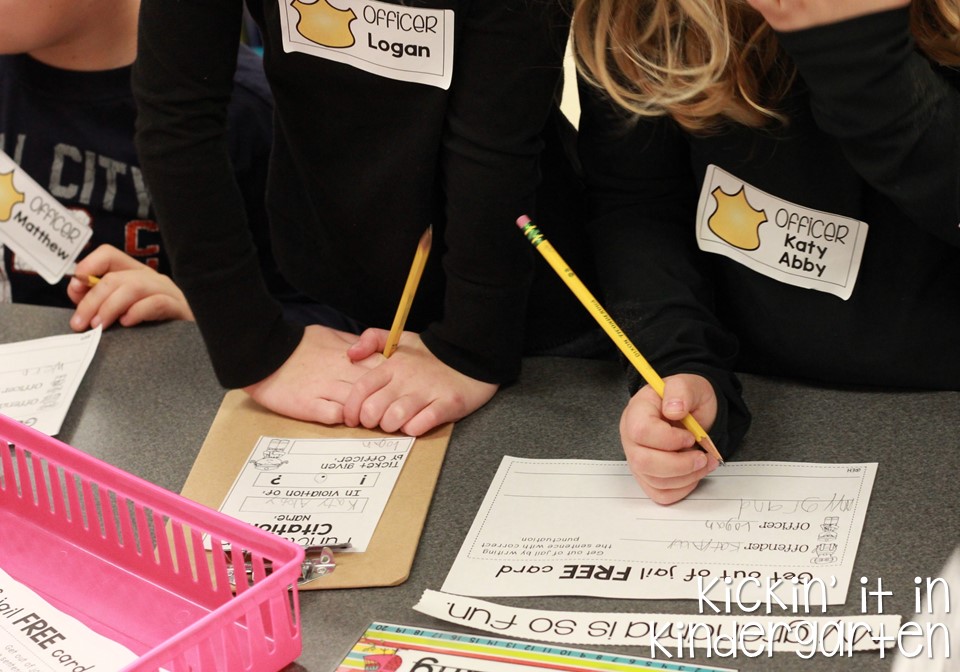 After the sentence was re-written, they had to present it to the "judge". The judge, officer and offender would then discuss the sentence. If the judge deemed the sentence was still wrong, they would send the "offender" to the slammer (i.e. my library) for 13 seconds. No reason for 13 seconds…just a funny random amount of time will suffice :). Make sure to mix students up so they can play each part. At the "judge" table is where I kept the get out of jail free cards.
I had the judges wear the same capes that we use for vowel bat #twobirdsonestone.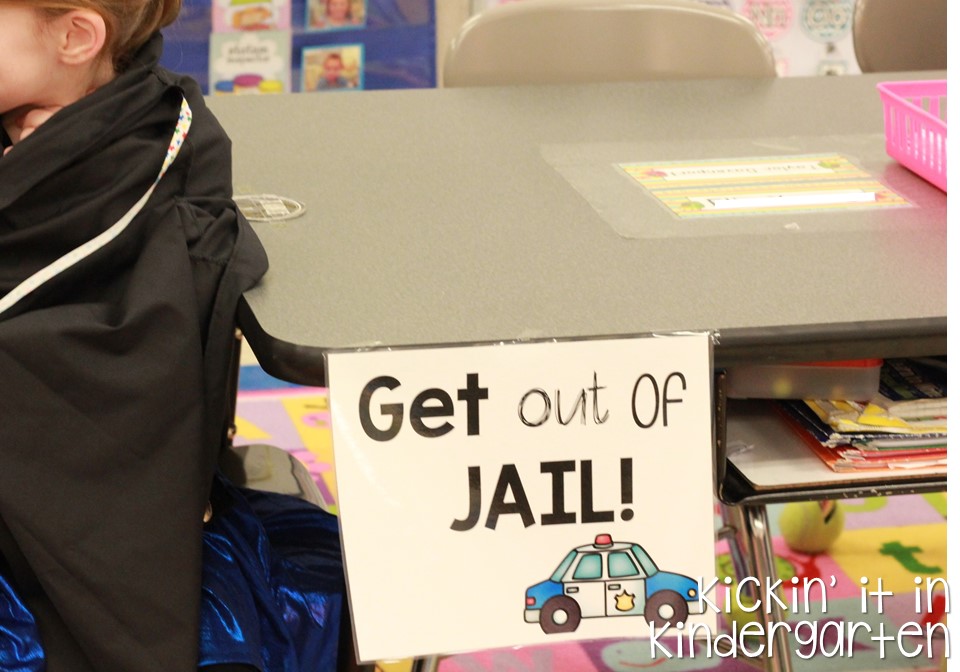 The judges were busy…there were a lot of punctuation offenders in our room.
I moved the judges table to the front of the room because I knew there would be a lot of action up there, and there was….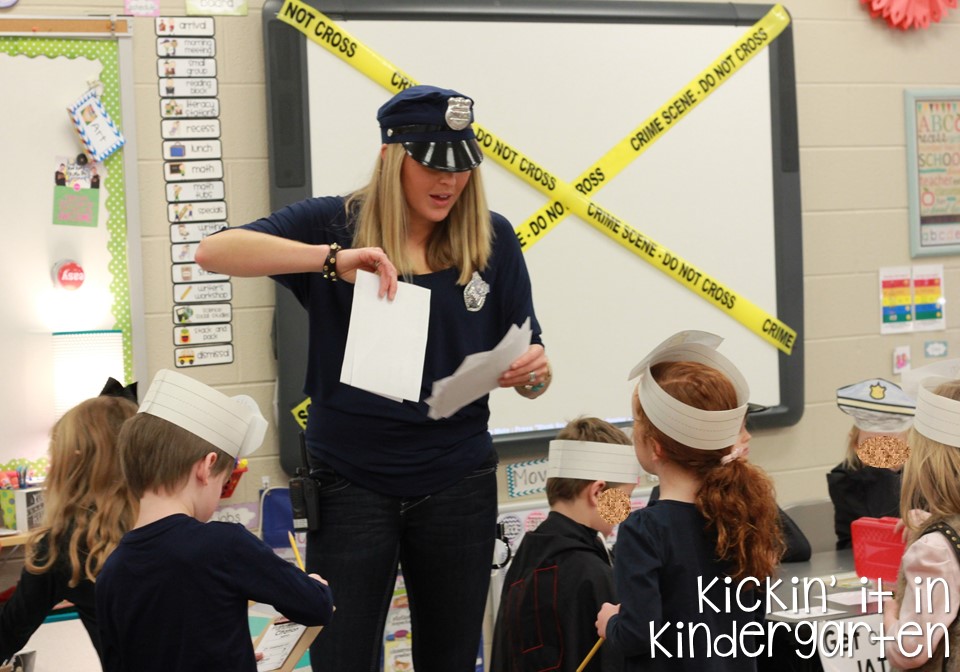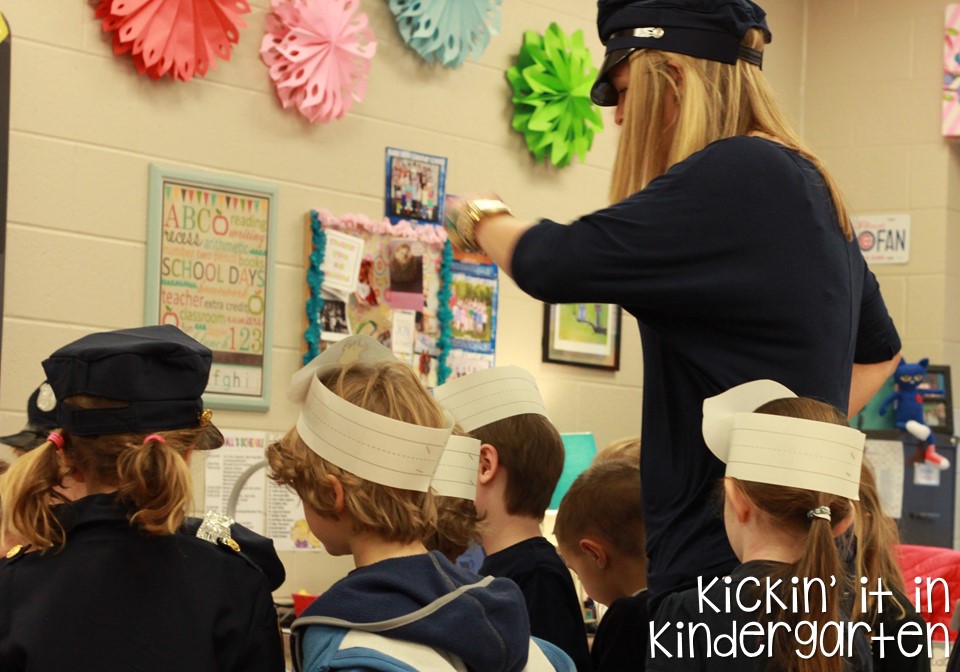 This activity was so powerful because it got kids talking about what they were changing and why they were changing their punctuation. There was a sentence that read, "I love my friends?" and one of the little boys said, "I'm going to put a period at the end of that sentence." His partner that was playing the punctuation officer looked at him and replied, "You must not really like your friends too much."
Not only was that a hilarious thing to say, but it was so meaningful and authentic. They were engaged and not once did I have to redirect because of behavior. Yes, they had to be prompted and asked about their answers. However, they were so wrapped up in the task that they (shhh…don't tell them) were learning.
It didn't stop in the classroom. I hid these "punctuation punks" up around the school building. As we walked to recess, lunch…etc, they had to find the "punks" and write them tickets.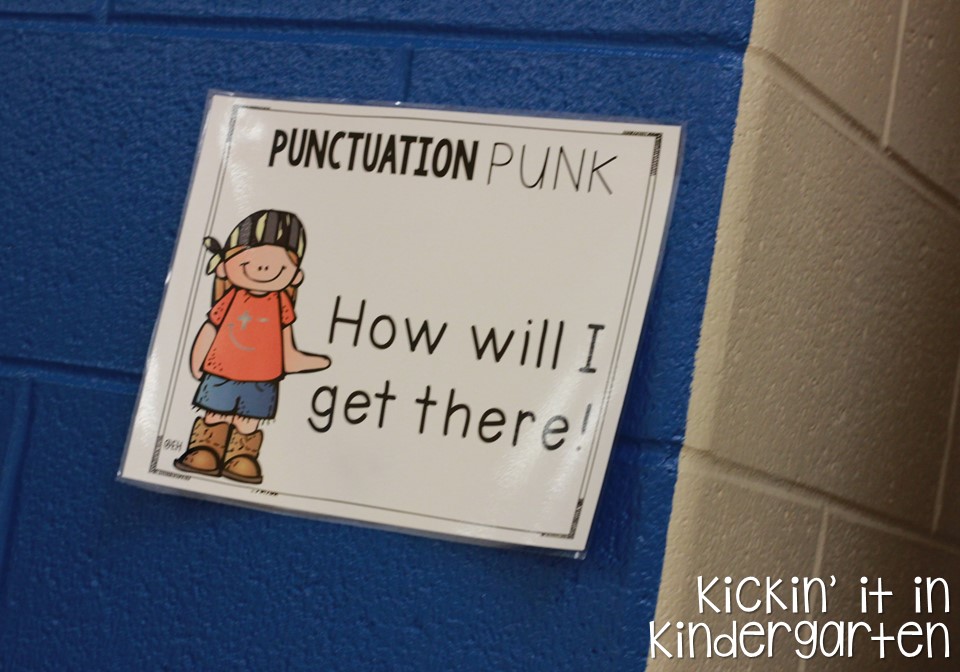 After we found all of the punctuation punks, we came back to the classroom and had a whole group discussion about what punctuation mark should be at the end of the sentences. We helped them get out of jail too…
This would be great as a wrap up or introduction to this activity.
Happy patrolling!